MQH "The Happiest Place on Earth"
Posted on: May 17, 2017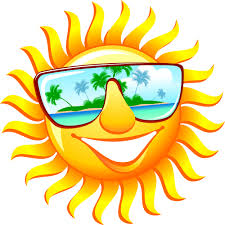 SUMMER TIME IS ALMOST HERE, HIP HIP HOORAY!
School is winding down, 8th grade graduation is this coming Monday, and Fr. Kevin and I couldn't be any happier! It is true, we are going to miss the kids but we are both looking forward to the slower pace of summer to recharge our batteries per se! Summer is a time to leave our busy winter schedules behind, it is a time when the craziness of life gets to be put on hold. Summer is a time of relaxation with family, going on vacations, hanging out with friends and spending quality down time with God.
Yes, believe it or not, God is found in our relaxation, He is found on vacation, He is found at family reunions, and He is even found amongst us when we are hanging out with our friends. Matt. 18:20 "For where two or three gather in my name, there am I with them."
Writing this article made me reminisce about a slower time in my life, when time seemed to have stood still. When I was a boy many, many, yes many years ago, summers seemed to last forever. It is funny when I think back to those days, I seem to remember them a little different than when I was living them out. For instance, we had ton's of chores to do, like mowing grass, hoeing the garden and picking apples off the tall trees and praying hard that the ladder wouldn't fall. I remember my hands being stuck by the thorns as I would pick blackberries and raspberries off the fence line so mom could make her special summer jams. What kid wants to do that work?
But the chores and labor under the hot sun would not compare to the fun my brothers and I would have playing baseball every single day. Baseball was my favorite sport when I was a young boy. I would do the Pete Rose belly slide into home base every day whether I needed to slide or not. I remember scraping up my chest and stomach every time. My brothers and I had a blast as we would play a long season of baseball just like the big leaguers. At night we would play hide-and-seek, eat watermelon and chase fire flies. Everything in the world was right!
Even though my family wasn't very religious at this point in our lives, I know that Jesus was present with us, without our realizing it. See, Jesus is present anyplace where family and friends get together. Jesus is present wherever love is being shown!
Summer time is an opportunity to think back to the fun times we had when we were younger and to create new memories for our children and ourselves. Summer time, is a time to relax, take it easy, have a beverage of choice with some close friends and worry a little less. And if we invite God into the long days of summer, then we will truly be blessed and rejuvenated.
YES!!! SUMMER TIME IS ALMOST HERE! HIP HIP HOORAY!
May your summer be filled with love, peace and relaxation! God Bless+
Deacon Larry